Top quality ingredients meet skilled craftmanship
From light and healthy to hearty and traditional or classic and regional – in the Puricelli Restaurant there are options to suit each palate. Chef de cuisine, Till Gerwinat and his team apply their skills. "We only use fresh ingredients and produce everything ourselves, from sauces, ice-cream, and pastries to gâteaux and chocolates". For him, the ingredients' own taste and originality matter more than exotic spices and excessive frills.
Enjoy delicious regional cuisine and sweet delicacies in a relaxed, companionable atmosphere during the day in Restaurant Puricelli or on the terrace, weather permitting – and always with the wonderful view of the Rhine valley.
In the evening the Hunting Room opens its doors. In this elegant ambience, the focus is on modern fresh cuisine. Chef de cuisine, Till Gerwinat and his team serve authentic, seasonal food influenced by the French and German cuisine.
"Regionally inspired dishes are accompanied by wines from this area", explains Katrin Kleemann. The hostess at Reichenstein Castle will be delighted to guide you in your quest to find the perfect combination.
Restaurant Puricelli seats a maximum of 230 persons. You may gladly book it exclusively for your own event.
Table reservation
 Please feel free to give us a ring:
+49 (0) 6721 61 17
Opening hours
Tuesday to Sunday 12 p.m. to 10 p.m.
Kitchen closes at 9 p.m.
Monday day off
(open on public holidays)
The perfect package for Connoisseurs
Best deals for Connoisseurs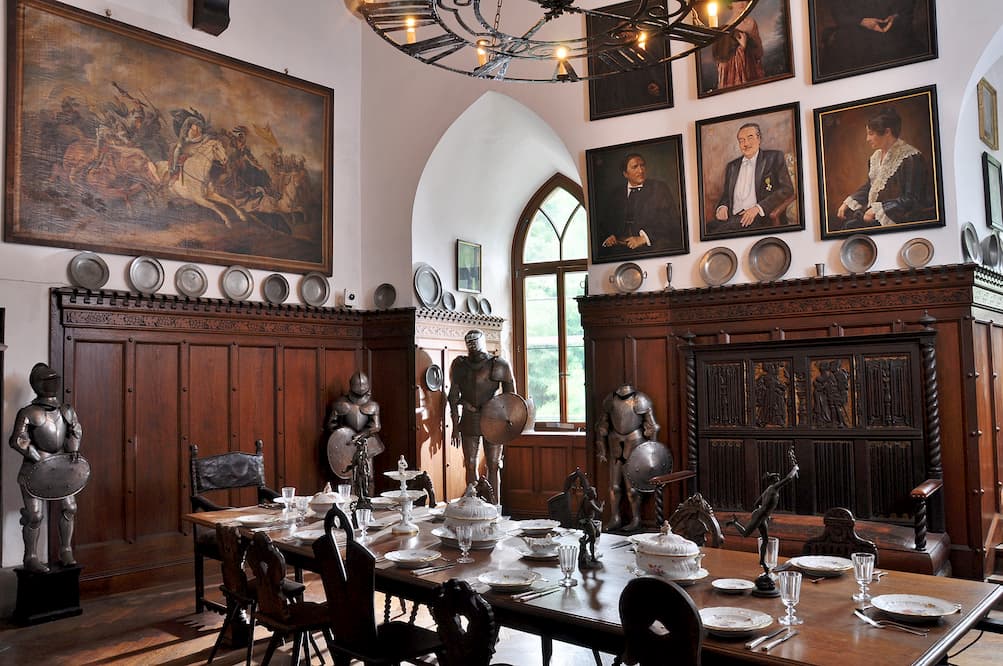 Enjoy this unique experience exploring the historical museum and an exclusive tour of our 1,000-year-old castle grounds. Indulge in a 4-course menu with complementing wines and a priceless view of the Rhine river. Whilst our kitchen, unfortunately, doesn't have the capacity for you to cook with our expert chefs, feel free to steal a peak over their shoulders, and maybe learn a trick or two whilst watching them carefully craft your meal. During the winter months, we will relocate the event to our private 'Landlord' kitchen, which is also located in our lovely museum area. Enjoy the same experience whilst also escaping the cold in the warmth of an open fire.
The event is limited to a maximum of 12 persons and includes the following services: Fingerfood // 1 glass of champagne // 4-course menu // wine accompaniment // corresponding drinks // Coffee // 1 digestif per person // Specially catered Menus // Individual name cards // Flower arrangements //
Castle Magic
For those looking for somethin extra special – in addition to an overnight stay in the room of your choice, our Castle Magic guests will also be treated to the following specialities.
1 bottle of sparkling wine (Sparkling) and a fruit arrangement in your room
Coffee and cake in our luxurious lounging area, alternatively our terrace with stunning views of the Rhine is also available four your use
4-course gourmet dinner menu
All drings on the menu, including wine complementing each dinner course sourced from the top vineyards of the surrounding Middle Rhine Valley
Free entrance to our historical museum
Our "Castle breakfast"
Or, treat al loved one to a night of maic: The perfect gift! Request this package as a voucher.
Restaurant vouchers
The ideal gift for gourmets and foodies, in fact for all those who love and appreciate exceptional cuisine. Our varied and extensive menu has something for everyone, making our restaurant voucher the perfect present for any occasion.
Enquire about our voucher: +49 (0) 6721.61 17